Best early spring flowers to plant in your home
Early spring flowers are the most reliable indicator that warmer weather is on its way to the region. These bulbs and perennials provide a burst of color to the landscape.
Before the majority of other plants begin to leaf out after a long, cold winter.
Spring weather may be very unpredictable, but spring flowers are resilient enough to withstand it. The first signs of spring in your garden may be seen as soon as the earth begins to thaw. There are a variety of early spring bloomers that may be planted outside even before the fear of frost has gone by. Others need a little amount of coddling at first. However, the best time to plant them is during the chilly spring weather, so don't put it off too long. ​
As soon as you see these blossoms, you'll know it's time to go back to work in your garden!
Crocus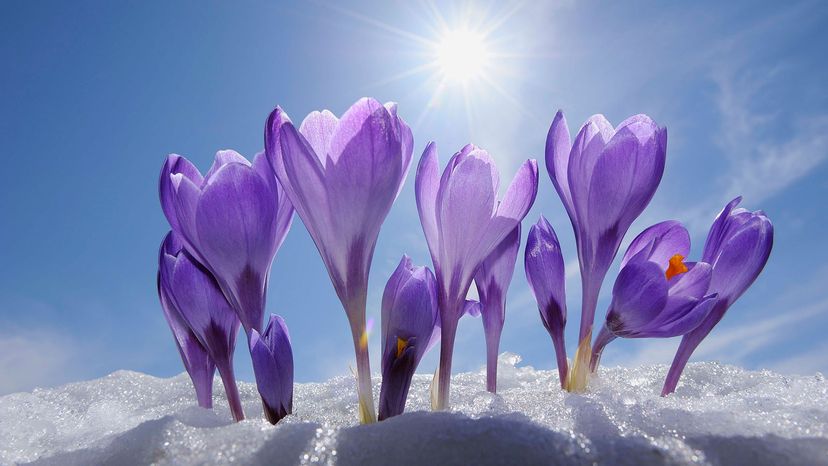 The crocus flowers, which belong to the genus Crocus, are a traditional harbinger of spring.
They are hardy in USDA Hardiness Zones 3 to 8, and they are available in a variety of colors including purple, orange, pink, white, and yellow. The leaves are thin and grass-like in appearance. Crocuses get established quickly, eventually producing carpets of color over time. Autumn bloomers are available in addition to spring bloomers and are suitable for growing in USDA Zones 6 to 10.
Assign a position that receives full sun to partial shade, as well as organically rich soil that is somewhat acidic. It is critical to have good drainage.
Daffodil Home garden decoration
Recognized for its original brilliant yellow hue, the daffodil (Narcissus) is a robust, trumpet-shaped flower that is best known for its classic bright yellow color.
Narcissus, on the other hand, is divided into 13 divisions, each of which has its own unique variety. Pink, white, and two-tone combinations are among the several hues available.
There may be one or many blooms on a stalk, as well as a single or double row of tepals, which is a phrase used to describe petals and sepals that are indistinguishable from one another.
When interplanted with other spring flowers such as snowdrops, hyacinths, and tulips, daffodils may provide a succession of blooms in beds, borders, containers, and large-scale planting schemes.
Dwarf Iris Gardening decoration
When Iris reticulata blooms early in the season in Zones 5 to 9, it is a fragrant tiny plant that bursts into bloom very early in the season.
As winter gives way to spring, I begin to look for signs of life in the garden. The foliage, which resembles extremely upright dark green grass, is the first indication of vitality.
I can honestly tell that in the seven years I've owned them, I've never seen them at the bud stage. One day there is just foliage, then the next there are beautiful blossoms.
The glory of the snow spring flowers
Known as "glory of the snow," Chionodoxa forbesii's violet-blue, star-shaped blooms have white center "eyes" that look up with a joyous expression.
It grows in clumps, which is how it is named. Foliage is strap-like, and both the stems and the leaves are tinged with a crimson hue. Full sun to partial shade, as well as ordinary, well-draining, slightly acidic soil, are the best growth conditions for this plant. In Zones 3 through 8, Glory of the Snow is the most appropriate game.
The heights vary between 6 and 12 inches. It's a fantastic option for rock gardens, and it also works well as a companion plant for other early spring bulbs in the garden.
Hyacinth (Grape Hyacinth)
Muscari spp., or grape hyacinth, is a fragrant flower with spikes of many small flowers that resemble bunches of grapes. It is native to the Mediterranean region.
The hue blue-purple is the most well-known, although there are various tints of pink, white, and yellow available. The leaves have the appearance of floppy grass.
The Lily of the Valley is a flower that grows in the valley.
It is notable for its fragrant white or pink bell-shaped flowers, which are produced by the lily of the valley (Convallaria majalis).
Each thin stalk bears between five and fifteen blooms, depending on the variety. The leaves are oval in shape, with parallel ridged veins running through them.
Squill Gardening decoration (Siberian Squill)
Low-profile Scilla siberica, often known as Siberian squill, has one to three light blue, nodding, bell-like flowers per stem. It is often observed in the presence of other spring flowers such as the crocus, grape hyacinth, and glory of the snow. The leaves are strap-like, and the stems are reddish in color. Full sun to partial shade, as well as ordinary, well-draining soil that is somewhat acidic, are the best growth conditions for this plant.
A single Early Tulip in bloom for your home garden (spring flowers)
Tulipa is a broad genus having blooms that bloom in the early, mid, and late seasons of the year.
The single early tulip is a classic variation with a single row of brightly colored tepals that blooms early in the spring season, among the daffodils and crocuses, and is one of the most popular in the world.
The foliage is thick and elliptical in shape, and it is sometimes tinted with purple.
Conclusion 
When designing your garden, consider incorporating early spring flowers. With later bloomers avoid barren places after the early bloomers have finished blooming. Think about what types of early bloomers die back early and which types of early bloomers keep strong foliage throughout the rest of the growing season. Share your thoughts in the comments